Benefits of Chip-on-Board LED Technology
So what's all the talk about chip-on-board (COB) LED lighting? At the end of the day, we can narrow it down to this LED's ability to produce a linear, nearly dot-free light. But don't just take our word for it. Let's take a look at all of the benefits COB LEDs add to lighting packages.
What is Chip-on-Board LED technology?
When you look at a standard Surface Mount Device (SMD) LED light strip, there's usually a package (2.8 x 3.5mm or 5.6 x 3.0mm) that's connected by wire to the LED strip. Within this package, there are generally up to 120 LEDs per meter.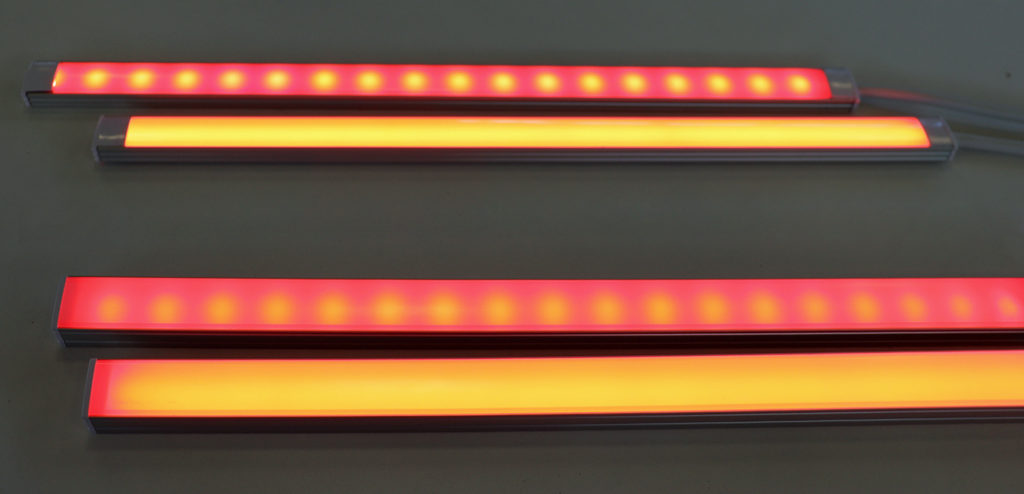 COB uses LED chips, or dies, directly wire bonded to the PCB, eliminating the need to expose the LEDs to the high temperatures of the soldering process. This also allows more LEDs to be packed onto a strip than with traditional surface mount LEDs — ultimately eliminating dotting. In fact, COB LEDs are about 1/10th the size of SMD LEDs, allowing a one-meter strip to hold anywhere from 480 to 800 LEDs.
Chip-on-Board LED vs. surface mount LED
By eliminating the traditional SMD LED package that you would find with traditional SMD LEDs, you can get more LED die in a given length of tape. This has several advantages, including:
Linear, nearly dot-free lighting — For those who have stayed away from LEDs because of dotting, COB makes it possible to pack the lights closer together for a linear, streamlined look.
A compact profile — Because COB LEDs are not housed in a traditional package, it's easy to use them with low-profile channels (or even without a channel) for applications where you don't want the structural light strip components to be visible, such as under-cabinet lighting and hallway cooridors. They can also be used in tight spaces, including to backlight objects.
Greater light density — COB LED lighting produces higher lumen per watt than surface mount LEDs, making them brighter and offering higher uniformity when compared with SMD.
Lower failure rates — Because these lights run off a simple one-circuit design, there is a lower risk of overheating or device failure.
Explore NovaFlex COB channels
Some of our smallest channels that can produce dotting with some LED strips are now dot-free when used with COB. Check out these examples:
Interested in incorporating COB LEDs into your next lighting project?