Digital Multiplex, or DMX, is a unidirectional lighting control protocol that allows you to run sophisticated lighting sequences from a single source. DMX goes beyond just lighting to special effects (hello, fog machines), and other add-ons that elevate your lighting experience.
Even if you've used DMX lighting in the past, it's possible you still have unanswered questions about how to get the most out of your lighting package. We're here to get you some answers.


What is DMX Lighting?
Simply put, DMX lighting refers to fixtures that have individual or a group of lights operated by one or more channels. That means that when your controller sends out data, it travels as a daisy chain through all lighting fixtures as a sequence (versus controlling each light separately).
At the end of the daisy chain is a terminator that stops the signal in its track. Without this vital piece of equipment, your signal will bounce back and distort your lighting.
Generally speaking, a DMX setup runs out of a master device, though there may be multiple master controllers on the network depending on the size of the lighting package.


How long has DMX lighting been around?
While it sounds advanced, DMX has actually been around since 1986. Ultimately, DMX came on the scene when users got fed up with remote control lighting, which required an individual cable to run from the board to each separate light fixture. (And let's not even get started on the number of cables that were required if you wanted to dim or change the color of a few lights.)
At its core, DMX was invented to allow a single cable to control all functions of a specific fixture (versus a separate wire for each function.)


How to connect DMX lights
Connecting DMX lights is pretty straightforward. You'll want to connect your cables to your DMX controller, and then into the DMX IN of your first fixture in your lineup. A DMX OUT will come out of that same fixture and go into the second fixture. This continues, with every fixture set to the same DMX channel model.


DMX lighting wiring diagram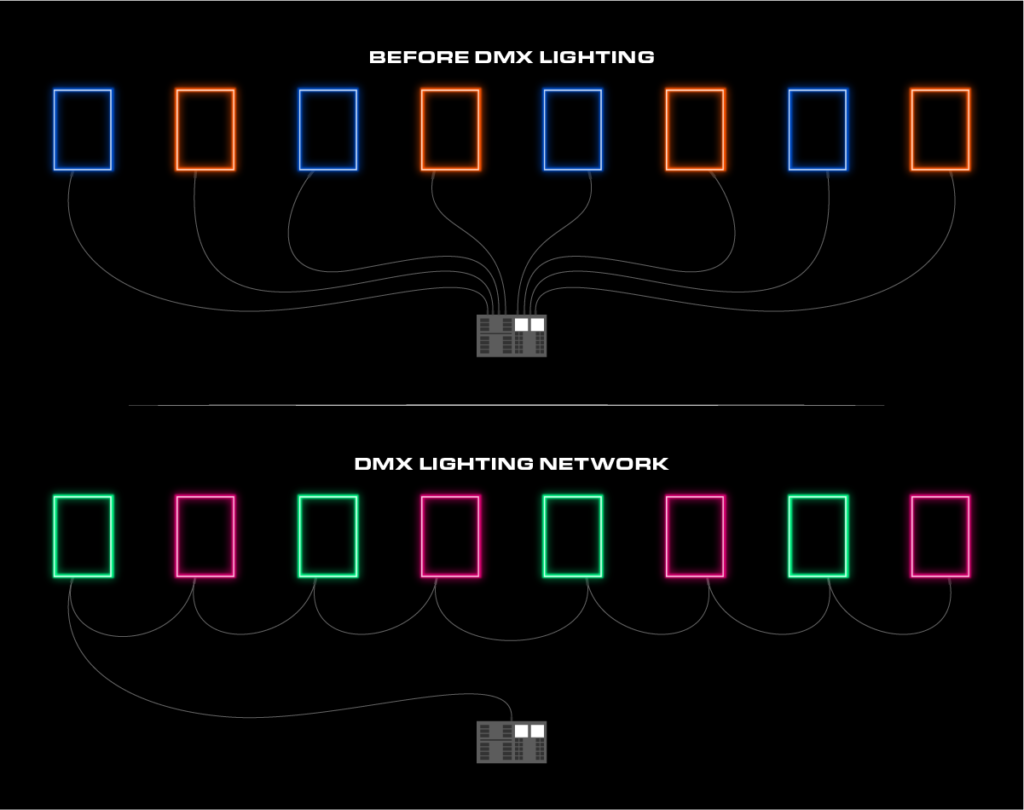 What is a DMX channel?
DMX channels are what tell your light fixtures what to do — so the more variations you want in your setup, the DMX channels are what tell your light fixtures what to do — so the more variations you want in your setup, the more channels you need. DMX is sometimes referred to as DMX 512, as a DMX system can be used to control up to 512 different channels in a setup. Let's put it this way: each color of an RGB requires 1 DMX channel. RBGW requires 4 channels, so the result is that a DMX Universe can fully control 128 RGBW fixtures (512/4=128).
What is a DMX LED fixture?
DMX LED fixtures are light fixtures that can be grouped together or programmed independently to a DMX channel.
How and when is DMX lighting used?
DMX is most often used for large installations, which are best controlled with a lighting console, especially once a certain number of fixtures get involved.
Some users may prefer to use DMX for smaller applications in order to best adjust a fixture's color and brightness with ease.
Do I need a DMX controller for DMX lighting?
At the end of the day, a DMX controller is what runs the show. While you can connect DMX fixtures without using a controller, you'll have to set them to sound-active or automatic mode.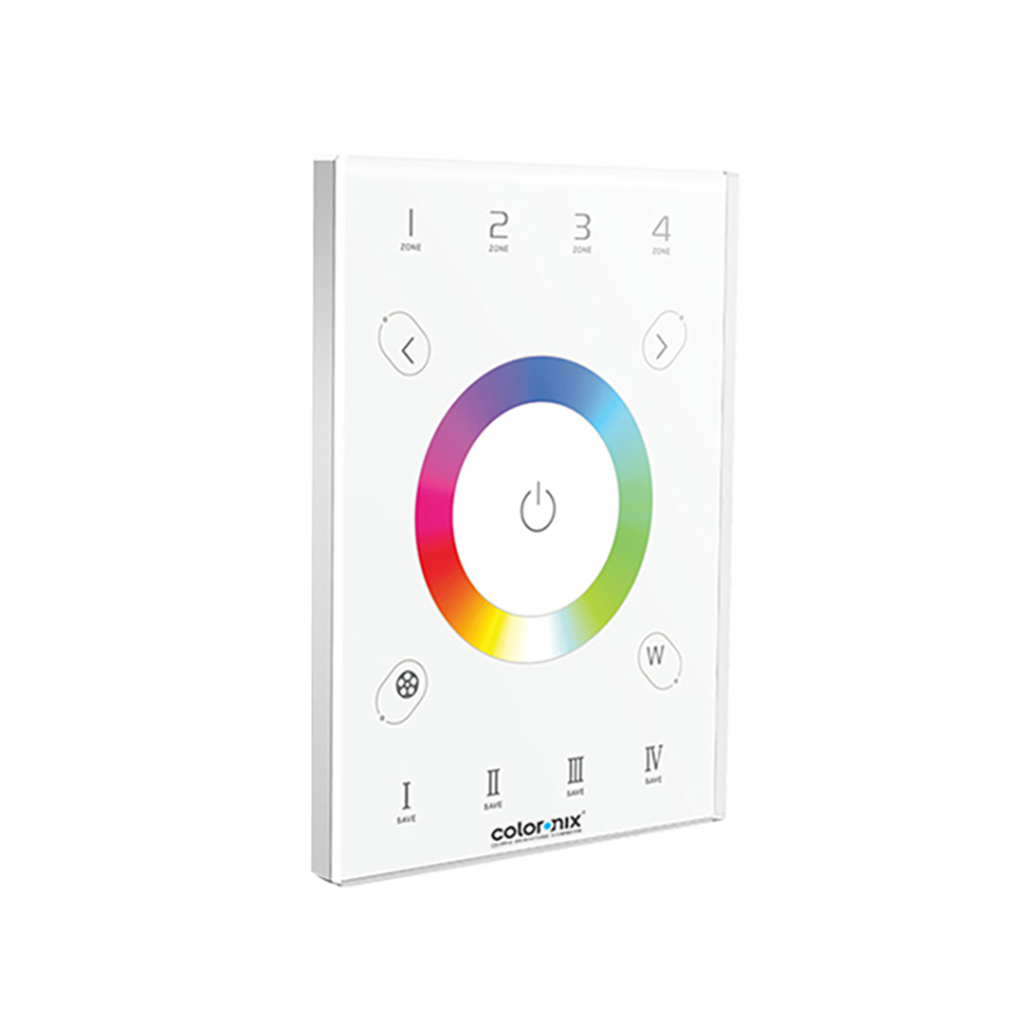 Our DMX controllers offer:
4 zones
Programmable options for 4 playbacks
Pre-programmed looks, including chasing and single-color
Dimming
Speed control and color scroll
And more!
Pros and cons of DMX lighting
A lot of good came to lighting with the introduction of DMX. Most fans rave about it because of its:
Efficiency — DMX fixtures run on low voltage, meaning that they are one of the best options for energy efficiency.
Ease of use — DMX systems use digital signals to communicate with one another and can easily be controlled by a single controller.
You can mix and match your fixture brands and models — There shouldn't be a need to repurchase what you already own to get a synchronized, streamlined lighting experience.
Customization — Get the right ambiance for the moment with DMX's incredibly customizable system. Sync it with music or move a spotlight around with incredible accuracy.
What about the disadvantages?
Of course, nothing is perfect. Here are a few things to keep in mind when working with DMX lighting:
You'll need to invest in cables — DMX will require you to have a full stock of low-capacitance cables (so those mic cables you might have lying around won't work for these purposes).
Pay attention to distance — Every fixture that you connect to your network has the ability to diminish or interfere with the signal. Best practices say to keep your cable length at about 1,000 feet. If you need more cable than that, a data splitter might just be your new best friend.
Watch your load — One fixture equals one load. Pretty straightforward. We recommend not using more than 32 loads to make sure that your lighting will perform correctly. Lean on your handy data splitter if you require more than 32 loads.
Setup can take some time — While things can be pretty smooth-sailing once your system is set up, getting there can take a little time. Factor time into your schedule to build your custom light shows before your big reveal or event.
Terminator required — "Shadow signals" can ruin your lighting experience. Any DMX lighting network, regardless of the length of cable or number of fixtures, benefits from having a terminator at the end of the sequence to stop your signal and prevent it from bouncing back.
See DMX lighting in action
Using our DMX products, Ricochet in Des Moines, Iowa brought a dynamic flair to their bar and restaurant. With our Universal 3560 channel and color-changing DRGB LED light strips, they revamped their space to bring their bar into a new dimension.
Find out how DMX lighting can bring flair to your space.