YES, research shows adequate lighting is essential to our existence and can improve mood and boost productivity. Our bodies are drawn to natural light, but the average American only spends 7% of their time exposed to sunlight daily, spending 87% of their time indoors and another 6% in transportation. Adjustable LEDs can mimic natural light, providing the light our bodies crave, while increasing productivity.
Nova Flex provides Adjustable LED Lighting, that is 90+ CRI with a CCT ranging from 2100K to 5400K, creating a variety of environments including:
Relaxed – 2100K – 3000K is a warm, yellow-hued Kelvin temperature our bodies associate with the sunrise or sunset when we are in a relaxed state. This lighting is best used to create a cozy, calm and more intimate environment. A spa or a restaurant late at night would be an ideal location for this lighting.
Focused – 3000K – 4100K is the closest to natural daylight and can bring "life" into a space. This light can be used to influence shoppers to spend more time in a retail setting or promote higher productivity and job satisfaction in a work environment.
Intense – 4100K – 5400K is a white, blue-hued light we associate with the sun at high-noon, when we are at our peak performance level. Studies have shown this light can expedite healing in a hospital or optimize concentration in classrooms during testing. It's also great for task lighting in restaurants or high-end display cases, such as jewelry.
The Adjustable Series can change the ambiance of a space with a simple push of a button, from a relaxed state to a hyper-focused state. It also can be dimmed separately, giving you even more options. The below infographic illustrates this: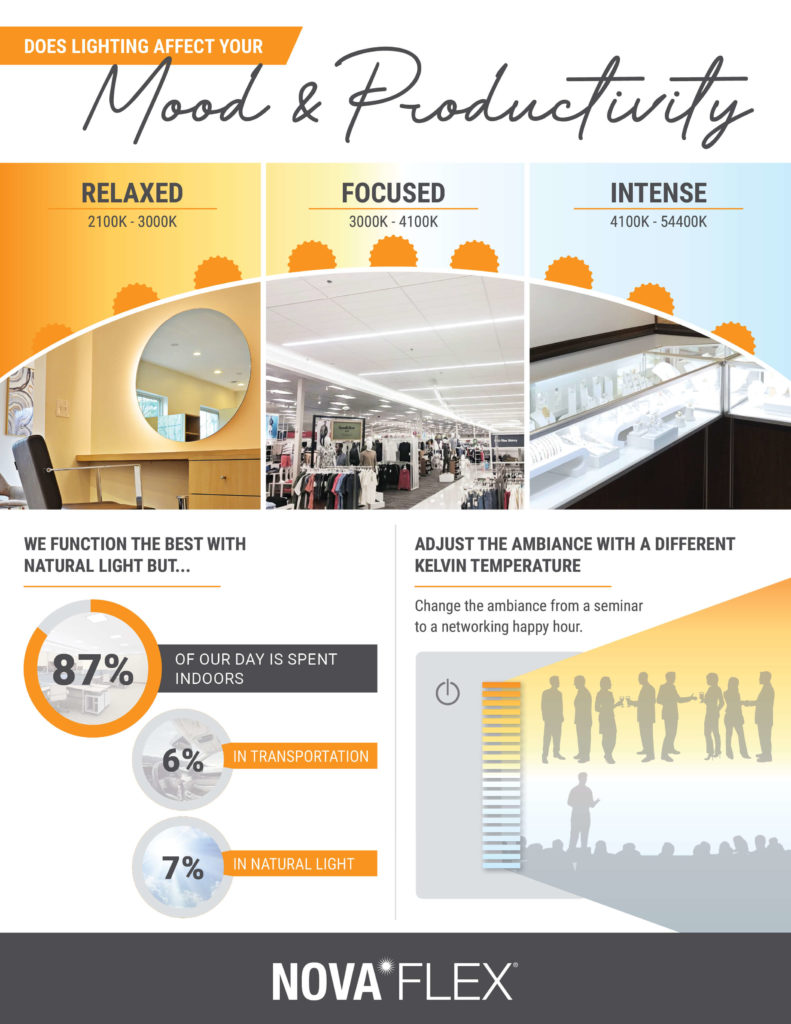 Can you think of a space where you would want the option to adjust that color temperature? In a casual dining setting vs an intimate dinner, or a convention center hosting a seminar followed by a networking happy hour. Using Adjustable LED Lighting provides you with endless possibilities.
Nova Flex has been making linear LED lighting easy for over 10 years. Contact us today to get started on your next lighting project.