Introducing Our Newest Agent Partner, The Lighting Digest
In the ever-evolving world of illumination, innovation is key. It's not just about lighting up spaces anymore; it's about transforming ideas into brilliance and shaping the future of lighting technology. Today, we're excited to announce the new agent partnership between Nova Flex, your trusted name in creative illumination, and Lighting Digest, the beacon of knowledge in the lighting industry. Together, we're set to illuminate minds, inspire innovation, and revolutionize the way we think about light.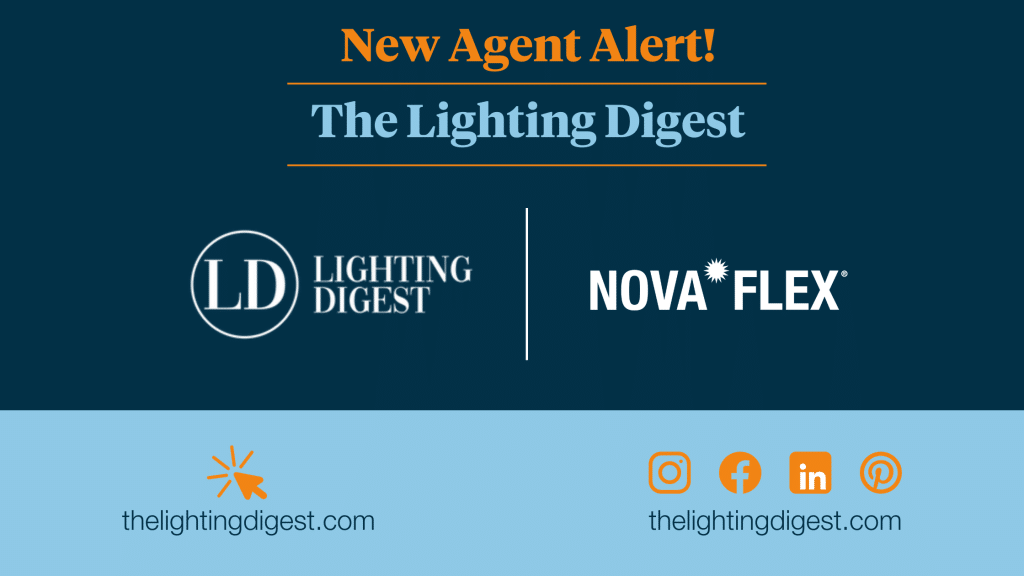 About Lighting Digest:
Lighting Digest stands at the forefront of lighting industry insights. Their commitment to exploring cutting-edge technologies, sharing industry trends, and fostering creativity aligns seamlessly with Nova Flex's vision. With a rich history of delivering in-depth articles, expert opinions, and the latest news in lighting, Lighting Digest is the go-to resource for professionals and enthusiasts alike.
How Nova Flex and Lighting Digest Benefit:
1. Knowledge Exchange: This agent partnership allows for a vibrant exchange of ideas and expertise. Nova Flex brings hands-on experience and innovative solutions to the table, while Lighting Digest offers a wealth of industry knowledge and a platform to share these insights. This collaboration will undoubtedly result in a fusion of practical expertise and theoretical understanding, driving the industry forward.
2. Fostering Innovation: By combining Nova Flex's inventive products and Lighting Digest's industry analysis, the partnership aims to foster innovation. This collaboration creates a dynamic space where ideas are shared, refined, and transformed into groundbreaking products and technologies. Together, we're exploring uncharted territories, pushing boundaries, and sparking the next wave of lighting innovation.
3. Industry Leadership: The collaboration strengthens both Nova Flex's and Lighting Digest's positions as industry leaders. By sharing expertise and collaborating on content, we're not just shaping the conversation around illumination; we're defining it. From exploring eco-friendly lighting solutions to delving into smart technology integration, our partnership sets the pace for the industry's future trajectory.
4. Empowering Professionals: One of the core benefits of this agent partnership is its impact on professionals in the lighting industry. Lighting designers, architects, engineers, and manufacturers will have access to a wealth of knowledge, inspiring them to push their creative boundaries. As a result, projects will become more innovative, sustainable, and visually captivating.
Looking Ahead:
As we embark on this exciting journey with Lighting Digest, we invite you to join us.  Together, we're not just lighting up rooms; we're enlightening minds. Innovation knows no bounds, and with Nova Flex and Lighting Digest working in harmony, the future of illumination has never looked brighter. Here's to a partnership that will shape the future of lighting—one brilliant idea at a time.